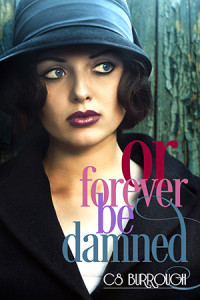 If Or Forever Be Damned were a fabric, it would be brocade – rich, detailed, textured, and often interwoven with threads of silver or gold.
Meet Mona — a poor Protestant teenaged factory girl, who is tormented by sibling rivalry over her favoured artistic younger brother, Ambrose. Untrained and against parental orders, stagestruck Mona resolves to outshine Ambrose, furtively pursuing a theatrical career. Into her journey, Mona unearths her younger bête noire, Kat — a Catholic rough-diamond, a child-veteran entertainer who, conversely, yearns to escape theatre life. So begins their lifelong enmity.
Or Forever Be Damned is an historical saga spanning eight decades, following the lives and families of two very different women who escape the slums of northern England's 'Cottonopolis', Salford in the 1930's Slump — a simmering irrational enmity that lives on in modern day Australia.
CS Burrough will take you on a compelling parallel journey with endearingly flawed characters, giving the reader a privileged, fly-on-the-wall position, unpressured into taking sides — a visceral glimpse into history.
Available for purchase from Amazon.
Posted In: Books
Tagged: drama, english historical, Family, historical, Literary, Relationships