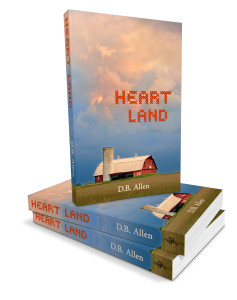 She is home to Great Plains and even greater rivers, shining towns and people of soul. Her winters are ice-chest bitter, her summers alive with thunder and twisters. Deserts and dust-devils, cottonwoods and corn fields all sing the harmonies of gospel, the melodies of country and the rhythm of the blues, in this church of love and loss. Hers is a bright light slowly fading. She is America's Heartland. These are her stories.
Heart Land is DB Allen's first full length novel — a novel of inter-connected stories spanning generations, all set in the American Midwest.
Titles & (settings) of each story:
1. Last Storm First (Oklahoma).
2. The Swing (Nebraska).
3. Dan for Danica (Iowa and then Texas).
4. A Single Word (Iowa).
5. Kaitlin's on the Corner (Texas).
6. Bookstore Confessional (St. Louis, Missouri).
7. Archie's Reach (South Dakota).
8. First Snow (St Louis, Missouri).
Heart Land is available as an eBook from Amazon.
Heart Land is available in paperback from most retailers and includes eight pencil drawings by the author – one for each story.
Other books available by D.B. Allen
Aiden's Alibi / novella / a brilliant contemporary story of love, lust and loss.
The Rainbow Blindness  / novella / a story about self-discovery, love and loathing, set against a background of great beauty and looming darkness.
Posted In: Books