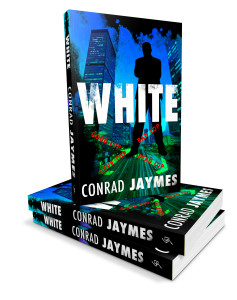 At the start of the new millennium the world's media coined a phrase — The Heroin Drought.
And while the impact on drug supply was widely reported, the story of what led to this scarcity has never been told — until WHITE.
In this brutal & gritty thriller Conrad Jaymes takes us into the darkest corners of the drug war & introduces us to some of her combatants: Peter Balino — a tough, complex man, haunted by his past, unsure of his future.
The Say Tong — the most powerful criminal organisation in East Asia, run by men of knife-edge ambition & cruelty. Men known as Snake Eyes, The Vampire & The Giant.
This is a story for fans of true crime.
A story born in the headlines.
A story so real it just might be true.
---
CROSSING THE LINE Series:
Book 1 – WHITE – Good Cop Bad Cop, Live Cop Dead Cop
eBook available from Amazon & paperback available from most online retailers.
Book 2 – SILVER – Money & Madness, Mayhem & Murder
Book 3 – SCARLET – Love & Loss, Rage & Revenge
Posted In: Books
Tagged: Cop, Crime, Police, Police Procedural, Thriller