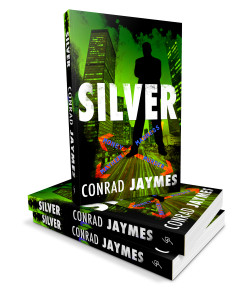 Peter Balino is a man living the easy life. Or is he?
A beautiful wife, a home with a view and a safe, steady job.
But after decades working in the frontline of defence and law enforcement, can such a man really be satisfied with an ordinary life?
Then Balino receives a call from an old colleague. An offer to get back in the game. Private investigations. Take a few pictures, collect the cash – no questions asked. What could be the harm?
Peter Balino is about to find himself on the frontline again.
And this time, the mission could be his life.
This is the second book in the Crossing The Line series by Conrad Jaymes
CROSSING THE LINE Series:
Book 1 – WHITE – Good Cop Bad Cop, Live Cop Dead Cop
Book 2 – SILVER – Money & Madness, Mayhem & Murder
eBook & paperback available from Amazon.
Book 3 – SCARLET – Love & Loss, Rage & Revenge
Posted In: Books